Exhibiting at PAX, a How-To Guide and Retrospective
So our PAX happened, and I've now had enough of time to rest and gather my thoughts, so now it's time to write a little bit about how it all went!
Hi everyone, this is Future-Trevor, writing from a few days after I wrote the original draft of this article!

Rather than edit anything I wrote originally, I'm going to be making my edits and corrections here in these indented callouts.

If you've been reading this blog for very long, you may have noticed that Past-Trevor has never been good at writing only "a little bit", and so you won't be surprised that he's turned this little blog post into a small novel built around a huge set of bullet points. Apologies!

But I do think it's kind of adorable that he believes he could ever write "a little bit" about any topic, much less about a topic as big as exhibiting at PAX!

Anyhow, I'll pop back in from time to time, whenever I think Past-Trevor has forgotten something important. Talk to you again soon.

Back to Past-Trevor:
What follows is both a description of what we did for PAX Australia 2019, and also advice for other folks who might exhibit for the first time in the future, based upon what did and didn't work for us.
For the "advice for other exhibitors" portion, I'm going to assume that you've already contacted the organisers for whatever PAX you're planning to exhibit at, and have already been approved for a booth, and probably have already paid the various invoices. This blog post covers everything that happens after that point!
Preparation
if you're doing a PAX Rising booth (like we did) then a lot of the work gets done for you automatically; the stand is constructed for you, the signage is printed and installed for you, and you're given a secure(ish) lock-up space under your stand, along with two stools/chairs. So you don't need to arrange any of that.
But there's still some other preparations you still have to do for yourself!
The things you still need to arrange for yourself are: (listed in no particular order)
1. People to work the stand.
By default, your booth will come with a small number of exhibitor passes, and you can buy more either before or during the show. Ours, for example, came with two passes.
I highly recommend acquiring a total of at least four passes, even for a simple PAX Rising stand! Having just two exhibitors would have been really difficult!
Having four meant we could stay fully staffed even when someone went to get lunch, and meant that people could go to particular events or panels they wanted to attend; there were enough people that we could cover for each other!
I need to say a big "thank you" to all the folks who manned the MMORPG Tycoon 2 booth with me (all of whom also worked on the game at one point or another); Ed, Frances, Frank, I wouldn't have made it through the expo without each of you!
+1 from Future-Trevor
2. Computers to demo on.
My development machines are all big and heavy.
I didn't want to transport my dev machines to the venue, and I definitely didn't want to leave them there overnight between days of the show!
Future-Trevor again, from a few days in the future. Coincidentally, my main development machine completely died during PAX, although I didn't realise it until after PAX had ended.

If I had been relying on that machine on the show floor, it would have been a catastrophe!
Lots of people demo using laptops, and just take them home at the end of each day rather than leaving them on-site between days. I didn't have laptops powerful enough to show the game with all its graphical features turned on, so this wasn't an option for me unless I went out to buy new expensive gamer laptops.
Now, if your studio has a good reputation, you can probably borrow hardware from a well-known gamer-focused manufacturer. I know plenty of folks who regularly get demo hardware from Razer or SteelSeries or other manufacturers, for example. But MMORPG Tycoon 2 is VectorStorm's first game, so I didn't think I had enough pull to do that.
You still should have asked them, Past-Trevor!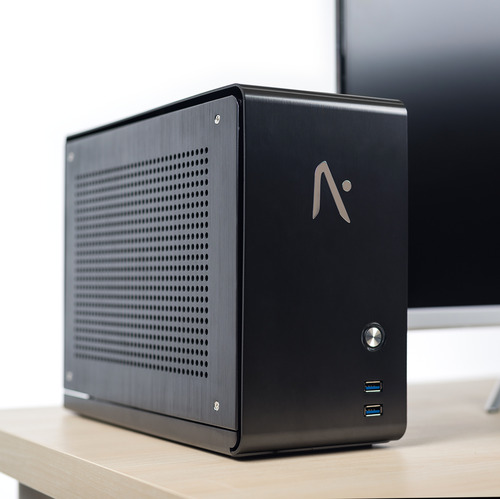 Instead, I contacted a local PC shop, and got them to agree to loan me PCs for the show, in exchange for showing flyers for their hardware. (For the record, that was Aftershock PC; our game was showing on two of their Inspire mini-desktop computers). So that was one major expense avoided!
3. Keyboards/Mice/Mats/Headphones/Monitors
Aftershock PC happened to also sell branded mice (which were much nicer than I was expecting, if you don't mind aggressive LED lighting), and so they provided both mice and mouse mats for us, in addition to the computers themselves. So now I just still needed to acquire two keyboards, two sets of headphones, and two monitors for the demo machines.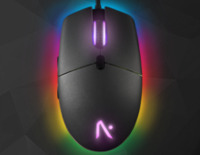 Again, I didn't want to use any of my own personal or company gear for this; stuff gets broken on the show floor all the time, and even can be stolen, so.. I didn't want to have any hardware that I strongly cared about there.
So for these, I just ate the cost and bought them. I bought two $20 keyboards, two $50 pairs of over-ear headphones which looked a lot more expensive than they were, and two really nice 27" HD IPS monitors which somehow only cost me $200 each.
Apparently at some point in the past few years, basic high-quality monitors became absurdly cheap, and nobody bothered to tell me?
I'm now using those monitors for development; replacing a dying old monitor and a loaned monitor which has now been returned to its owner. These cheap new monitors are heaps nicer than the expensive ones they replaced!
Anyhow, I also brought a spare keyboard (so terrible it's almost unbelievable how bad it is), an old mouse of mine that I hated immediately after buying it, and one more monitor (borrowed from a workmate who was on holiday), all as backups, just in case anything bad happened on the show floor.
Spoiler: everything was fine and none of the backups were used. But I was still glad I brought them.
Worst-case scenario, there are always hardware vendors at shows like PAX; if a mouse stops working, you can run over to one of them and quickly buy a replacement. But.. better to already have one on-hand in case of emergency!
4. The artwork to use for the stand.
I mentioned earlier that when you're renting a PAX indie booth (either the standard booth like I used, or a larger deluxe booth), they come with signage pre-installed, and that's great. However, you do still need to provide the artwork for those signs about a month before the show opens so that the organisers can get it printed in time. (Check the documentation for exact dates for your particular expo)
The thing which bit us was that these indie signs consist of two panels placed next to each other, and the art specifications didn't fully specify the size of the gap between the two panels; that was important, as we'd chosen to flow our game's logo across both panels!
With a few weeks to go before the show, they send you a 'proof' of what the art will look like, and so we caught an issue which made it more difficult to read the game's logo, as the gap turned out to be fully double the width we had expected!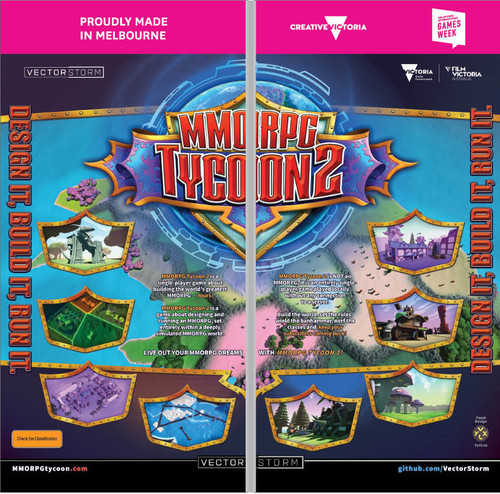 PAX in different regions and different years has different dimensions for their signs; the stand signage here in Australia is usually a lot taller than at US-based PAXes, for example. Check with your PAX representative if you need more details about signage dimensions! And if you're designing something that flows across the gap, ask your contacts for exact measurements for the gap between panels at your expo!
As for the artwork itself.. I strongly recommend finding an experienced graphic designer to handle it, rather than going to your game artists; you want someone who is highly experienced with print media! I went with Chris Williams of vyxl, and was really happy with his work and the collaboration!
One more point: We put a complete elevator pitch for the game onto our panels. This is really unusual; I didn't see any other stands which had done that, and I got a lot of positive feedback from people who appreciated that they could read about the game on their own, when booth staff were busy with other people; I'm absolutely going to do that again next time I do an expo!
Past-Trevor doesn't mention it, but stress over preparing the final form of this artwork actually resulted in me (him?) spraining his (my?) spine, just due to hypertension. It took about three weeks with a physiotherapist to fully recover!

You really need to learn to chill sometimes, Past-Trevor!
5. Other marketing materials.
I'm a big fan of having marketing materials beyond the basic signage.
My personal theory is that at an expo, marketing materials need two things: They need to be small, and they need to be durable.
Small, because we're hoping that people will carry them around with them and not throw them away while they're at the show, and durable because they're likely to be forgotten, and we want them to still be beautiful when they're rediscovered later.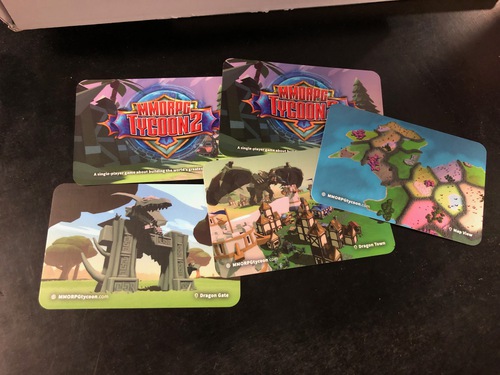 For us, we went with sturdy business cards; I feel that flyers are too flimsy and too big, and just get thrown out, while good-quality attractive business cards go into wallets or purses and are much more likely to be seen again later.
For the show, we printed about a thousand business cards through MOO, with the game's logo on the front, and several different ultra-high-resolution screenshots on the back. (Those screenshots were captured at a resolution of about 7k; I had expected that getting print-quality screenshots was going to be a big problem, but it turned out that modern graphics cards don't even breathe hard when you ask them to render screenshots at that sort of absurdly high resolution!)
Finally, I'd like to talk a little about a PAX expo secret; when you're exhibiting, the worst thing is a stand where it looks like nothing's happening. If nothing's going on at your booth, people don't come over to see what's happening. And I was paranoid about "what if nobody wants to play the game?" What if we were left with just two computers showing basically nothing going on, because nobody was playing?
The PAX secret for preventing that situation is to have a third screen at your stand, just showing a video or videos of the game. That way, even if nobody's actually playing the game, your stand still looks like something's happening there; like there's a real game to see.
I've had friends who have implemented this third screen simply using a Smart TV. Load videos of the game onto a USB stick as if they were home movies, and then just have the Smart TV play them. I always felt like that was really a clever solution, requiring an absolute minimum amount of hardware.
But I didn't have a smart TV; I needed something that would work with a regular dumb PC monitor (specifically, the backup one that I brought in case one of the other monitors broke). In the end, I used a Raspberry Pi to play our Early Access trailer video on the third monitor, and just left it looping nonstop for all three days.
In the end, "nobody playing the game" wasn't a problem for us at all; we had people playing on both stations pretty much solidly for all three days. In retrospect, it might have been better for us to have had a third full computer, and be able to let three people play at once! But we only had the two machines this time. Maybe next year!
6. T-Shirts for booth workers
When you're exhibiting, it's important for attendees to be able to tell which people are showing the game, in case they have questions or want to talk to you for other reasons. In video games, this usually means custom t-shirts.
I may be a traditionalist on this, but I feel like I want something very clear and clean and highly visible for this; the game logo on the front, and the game name printed clearly on the back, so you can be recognised from either side.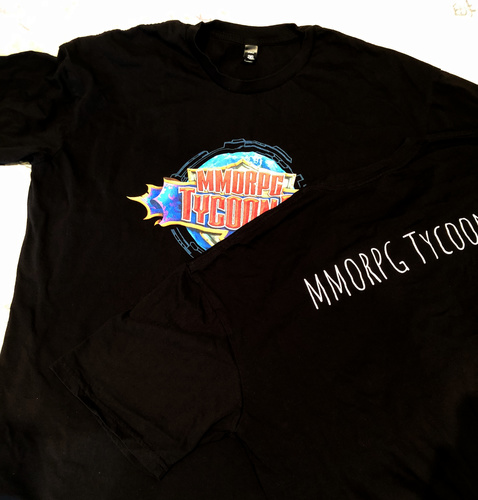 With four people, and three days of exhibition, I spent substantially more money on custom t-shirts than on any other single item (excluding the booth itself).
I spent more money on t-shirts than on the new monitors I bought, and more than on the thousand high-quality business cards I bought. That seems wild to me, but here we are.
7. Any other decoration you'll be using on your stand.
I.. didn't do anything here. But a lot of exhibitors will bring a cloth to cover their table, or other bits of decoration.
Or you can go over the top, like our friends at Mana Tea Games did for their magical feline game 'Unfamiliar', decorating their stand with cat posts, fake plants, and monitors staring down at people from high overhead. [Photo]
Ever since seeing what they did at their stand, I've been thinking about how I could make better use of a PAX stand's verticality
In any case, if you're doing something fancy like this, definitely work out the exact size of your display area first, and make sure everything will fit into it! If you're doing something vertical, make sure that it's stable and secure, and nothing's going to fall on people, even if somebody bumps into your stand!
8. Power strips!
Here's a thing that PAX doesn't make enough noise about in the documentation:
When you're exhibiting, you're usually only given one electrical plug to use; you'll need to provide your own power strips to break out that power so you can plug in all your devices which need power!
The rule from above still applies; assume that one strip will die during the show, so bring two! And unlike mice or keyboards, there will almost certainly be nobody at the show selling replacements if the worst happens!
I bought the highest-quality ones I could find, including surge protection. Probably didn't need them to be quite so sturdy, but it felt good not worrying about power!
And now I have two really good power strips that I can use for other things! I've never regretted owning extra power strips.
9. Grants?
It's worth checking whether you're eligible for any financial assistance or business grants to help you pay for all of this!

In our case, there was a local government agency, Creative Victoria, which offers assistance to local companies exhibiting at the specific part of PAX Australia where we were exhibiting. They don't give a lot of money, but it's nothing to sneeze at! It maybe covered about 20% of our total costs, and all we had to do (apart from being based here in Melbourne) was put their banner at the top of our signage, and then file some paperwork once the expo finished!
It's also worth looking for other more generic business grants; often they're explicitly there to help businesses show their goods at conferences or expos, and PAX definitely counts for that!
10. Sanitiser!
Speaking of sneezing at things, you probably want a whole pack of sanitary wipes, especially if you're providing headphones! Wipe down any equipment that people touch as frequently as you can, between players!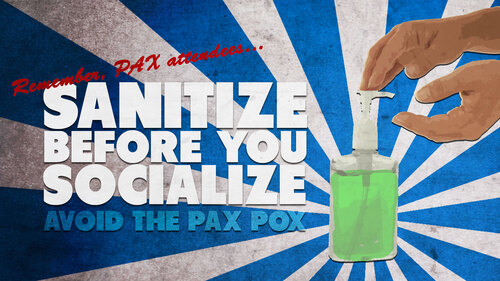 Also, hand sanitiser is a must! One of our helpers brought some hospital-grade hand sanitiser, and it was the best, as it didn't have the artificial colors or scents common for the consumer versions of the same product.
Highly recommended if you can find it!
11. Oh.. and a build of the game, I guess?
I mean, if we really must!
I found that working on the game did often take a back seat during the month or two before PAX, as I was figuring out the logistics for all the computers and keyboards and mice and headphones and marketing materials and monitors and and and and.. the build we went to PAX with wasn't much different from the build we had two months before PAX!
I pre-installed the game on both the computers I brought, and also kept it on two separate USB keys, just for extra safety.
The PAX build was slightly special in just one way. In it, I had modified the game's 'quit' function to instead reset the game to a pristine state, so we could quickly reset the game to give fresh players the first-time-user experience again, while also letting players quit back to the menu and then reload into their saves.
It also moved saved games into a separate directory when it did that "reset" function, instead of actually deleting the saves, just so that I could check out them out later and see what our players had created.
If you're exhibiting, I strongly recommend setting up this kind of "reset" functionality in your game; it really smoothed out the transition from one player to another, and reduced the load on booth staff.
There were a lot of other new features that I wanted to get into the build in time for PAX, but which just didn't get there in time.. everything was just a little frantic during the lead-up to PAX! In the end, you have to forgive yourself for all the things that just aren't ready quite in time; you're super-busy with everything else!
Bump-In
Before the event begins, you generally have about a day to move everything into the expo's stand area. If you're a big company, you'll probably be hiring a logistics company to handle equipment transport. But for little outfits like us, we're left bringing things in by hand.
I brought most of the gear in on public transport, just multiple trips back and forth between the expo and my office, bringing a computer or a bunch of cables and storing it all in the locked cabinet. It took about five trips to get the bulk of the equipment to the site. (I really should have just loaded up a taxi and taken it all in just one or maybe two trips)
General booth strategy: you probably want to keep as much as possible under the desk, with only the essentials up on the table itself. What you don't see (and what I didn't realise until I was on the show floor) is that the locked cabinet under the table is completely empty; it's just a big empty space all the way down to the floor, apart from a diagonal beam that stops you from placing anything large flat on the ground.
The lack of surfaces down there was kind of a problem for me; if I just put the computers down on the ground inside the locked cabinet, several of our cables weren't long enough to reach them! In the end, I constructed a "stonehenge", over the diagonal beam, with two PC boxes as pillars, and two monitor boxes set horizontally across them. The two loaned PCs then sat on top of that structure, just beneath the table of the stand, which meant that all the keyboard, mouse, and monitor cables would reach.
It wasn't the most stable setup, and if anybody had bumped into the stand very hard, it probably would have knocked over the boxes, sending the loaned PCs crashing to the floor! But we made it through the expo okay in the end.
Important advice: Make sure that your booth staff are helping you move into the space! I wound up doing almost all of the move-in process entirely by myself, and injured my leg in the process. That made standing by the booth for the next few days pretty uncomfortable!
Hi, it's Future-Trevor again!

One thing I forgot to mention here is electrical testing and tagging. Everything that's going to plug into an electrical outlet (including your power strips, your computers, monitors, and probably all your "backup" gear) needs to be tested and tagged as safe before you're allowed to plug it in.

There are typically a few people wandering around the expo hall during move in who are doing that tagging, and you get a certain number of tests/tags for free. But you have to pay for the extras if you have too many things that need to be tagged. Worse, you never know when the tagging folks are going to wander by your stand to tag your things, so you may need to wait at your stand for hours before the next one wanders past!

I was there pretty early, and got lucky; our stuff was all tagged really early in the day, so I could go home immediately after I finished setup. Folks who missed that first round apparently had to wait a long time for a second chance!
The Show!
Experiencing PAX as an exhibitor is very different from experiencing it as an attendee. That's probably obvious, but I hadn't really understood it until I was actually there, doing it.
The key thing when you're exhibiting is that you don't really get to see the rest of the show. I mean, I got to see everything during move in, but nothing was turned on at that point; I just saw what products and vendors were present (Sony's bringing back MediEvil? Really?), and sometimes the insides of their under-construction booths.
The only games I really saw were those that were within sight of my own stand. I was pretty much at my stand for the whole duration of the show, apart from a short break for lunch each day (Other folks rotated in and out over the course of the show, but as the programmer and designer, I felt like I had to be there as much as possible)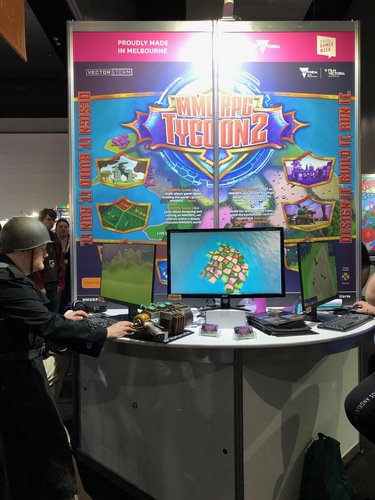 What surprised me most was that I wasn't just talking to consumers at the show; I also recorded several media interviews, had a lot of interest from Twitch streamers and podcasters who wanted to talk about how the game matched up against their audiences, and there were a surprising number of people offering translation, voice acting, and other services as well.
By the end of PAX, I was just reacting to everything on a moment-by-moment level; talking to people about the game while also watching for folks who needed help and making sure that nobody who wanted attention was being ignored, and that the game was still running correctly for whatever people were playing currently. In all honesty, it has all become a bit of a blur for me, looking back on it now.
In technical matters, we found that one of the demo machines seemed to have trouble running the game nonstop for a full day; We found we needed to quit out and restart the game on that machine every five hours or so to keep it stable, or else it'd freeze up at random moments.
The second machine (surprisingly, the slower, older, less-powerful one which I had initially been worried might be a problem) was completely fine and could quite happily run the game for the entire day nonstop, without restarts.
Bump-Out
Immediately after the show closes on the last day, as soon as the last visitor is ushered off the show floor, bump-out (move-out) begins.
Unlike move-in, move-out is a very, very quick affair. Where you had a full day to move in, you only have a few hours to get everything out of the expo hall before it closes. I'd been kind of dreading how I was going to get everything out of the hall quickly enough, but it turned out to not be a problem; we'd been helping out other exhibitors during the show, and during bump out they helped us in return; in the end, we got all of our gear out and back to the office in a single trip, where it had taken me about five trips to get everything into the expo hall during bump-in!
It's definitely worth talking to and making friends with folks who are exhibiting around you; you can help each other out when the inevitable crises hit!
Outcomes
Everybody goes to PAX with a different goal. Ours was to drum up excitement for the game, and to get people to add us to their wishlists on Steam. And.. that seems to have happened!
We got added to about 1600 wishlists over PAX, which was an amazing result! And streamers and other folks gave me lots and lots of ideas and perspectives on the game that I hadn't considered before, which will affect the path of our future development.
But more than that, having the game in front of brand new players for the first time in about two years showed several usability issues we had never noticed before.
Each night after the expo ended, I went home and did my best to address the issues that we saw people having that day. So the people who played the game on Sunday had few problems than those who had played it on Saturday, and those on Saturday had fewer than those who had played on Friday!
I'm very much looking forward to entering Early Access, so we start to get even more fresh first-time-user reactions and experiences, showing us those stumbling blocks where we're not yet explaining the game mechanics well enough!
Aftermath

Past-Trevor didn't want to talk about this, but I think it's important to acknowledge what happens in the days and weeks after PAX.

This will be vary between people, of course. But for me, I had been so excited and so stressed and so anxious about PAX for so long, and then PAX itself was so amazing, that once it was all over, I didn't really know where I was or what I should be doing any more.

I felt adrift.

It took me more than a week to even begin to find my way back toward useful work again. And I feel like working my way through spilling everything out into this blog entry has helped me start processing the PAX experience more fully, and start feeling excited to resume non-PAX work again.

The take-away lesson for me: I should be writing more often. It helps unload my brain.
And in conclusion…
If you spoke with me or with any of the other folks working the MMORPG Tycoon 2 stand at PAX, thank you so much for sharing your interest, your enthusiasm, your feedback, and your ideas! If you've sent me an email during or after PAX, then thank you for getting in touch and also I'm very sorry I haven't replied to it yet; I'll start working my way through that backlog tomorrow, I promise!
Also, thank you so much for reading this long-winded blog post. I hope it gave you some insight into the other side of the expo experience, or helps you avoid making some of the mistakes that I made!
And finally, thank you for coming on this journey with me. It's probably the biggest, scariest, and most exciting thing I've ever done.
Next time, more words about the game itself!
Fewer words, hopefully! –FT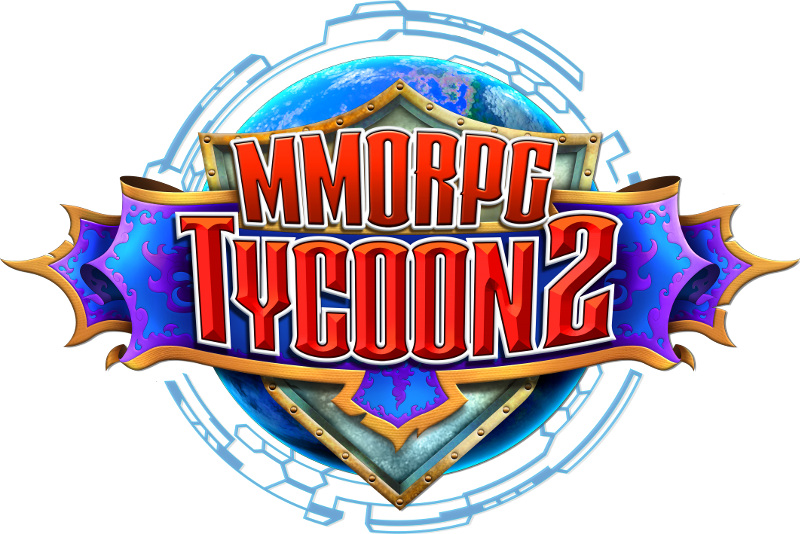 —Trevor